Strictly Come Dancing 2014: week nine results show – as it happens
So that's it for another week! Thank you so much for your comments tonight, and for being entirely amazing and hilarious on the Open Thread last night.
I'll be back here next Saturday at 7pm in the usual liveblog fashion, then every weekend through until the final on 20th December. Don't know about you, but I'm having a ball. Keeeeep dancing! Hx
Steve has been delightful and Week 9 really isn't bad going considering his ankles don't actually bend. He says lovely things about Ola and the other contestants and the Strictly experience, because exit speech one-upmanship is now evidently a thing. By the semi-final the celebs will be peeling off layers of skin and presenting them as gifts.
Craig saves Sunetra and Brendan, but Darcey saves Steve and Ola "for the ability and the guns" (never knowingly undershallow). Bruno saves Sunetra and Brendan, which gives Len the casting vote. He also saves Sunetra and Brendan, so….
Oops, bit of a stumble there. Are Sunetra and Brendan going home? Clearly this is a rhetorical question, I'm just creating tension.
I watched this jive twice last night, and again this afternoon. Don't make me watch it again.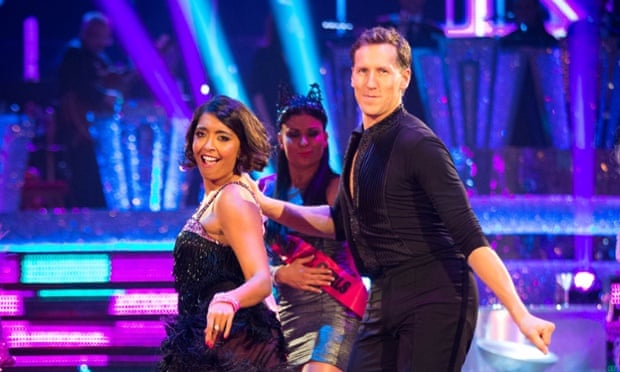 This is lovely and all, but I'd rather have more maracas.
Barry's waxwork is back, singing a duet of "Joy To The World/What a Wonderful World" with a hologram of Louis Armstrong. Gorgeous dancing courtesy of Aljaz and Joanne.
"It's not the dog in the fight, it's the fight in the dog", says Len. No way to talk about Ola.
So who else is through to next week's Around The World spuriously-themed special, and who's up against Sunetra and Brendan in the dance off? Frankie and Kevin are safe (massive Henman fistpump from Kevin), along with Caroline and Pasha and Mark and Karen.
Which means STEVE AND OLA are in the dance-off. Gosh, that was a surprise. Oh hang on, no it wasn't.
In this week's Len's Lens: Darcey dressed as a salmon, twerking, Claudia's amazing shoes and Bruno invading Craig's personal space.